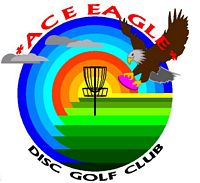 Welcome to My Club Web site!

Ace Eagle DG Club is now a
PDGA Affiliated Club!

Ace Eagle Disc Golf Club located in Evansville, Indiana!

We are a up and coming club with many active members and new ones everyday. Our home course is at Mesker Park on the West side of the City.

Course Established: 2006
Record Last Modified: 2006-10-28

Description: Beautiful wooded park, with lots of mature trees, elevation, and two cobblestone bridges. Challenging, with lots of OB.

Number of Holes:
18 Mach 5
Tee Type: Concrete
Course Length: 5892
Alternate Course Length: 4769
Less than 300 ft
6
300-400 ft
8
More than 400 ft
4

Disc Golf

#9 at Mesker
Please get in touch to offer comments and join our mailing list.

BennyV@onetimediscgolf.com , aceeaglediscgolf@aol.com ,ckzuber@insightbb.com
Evansville, Indiana